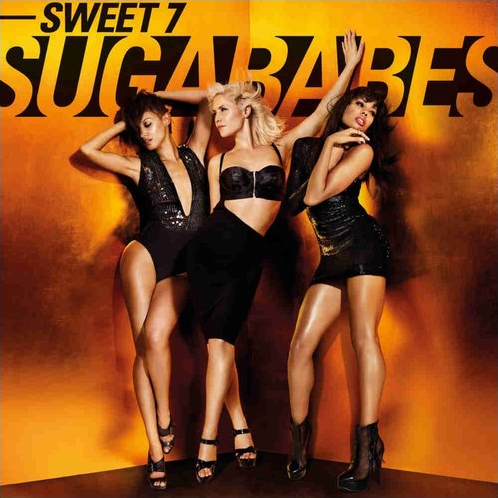 I suppose I'm not the only pop fan and girlband lover to feel a bit weird about the Sugababes. It's not that I don't like them anymore (or at least their past songs), but it's just that I don't feel comfortable supporting a band that's no longer what it used to be. I'm not talking about the recent (third) line-up change, when founding member Keisha Buchanan was ousted out of the band and former Eurovision hopeful Jade Ewen replaced her in a matter of minutes. That's, as they say, life. And a lot of cynicism. The previous incarnations of the Sugababes had survived the departure and replacement of former members quite well, and as I tend to think, only the music counts.
What bugs me here, in this new era for the b(r)and's seventh album Sweet 7, is that they've hit a career low. When Get Sexy, the first single from the album appeared back in July 2009 (when Keisha was still in the band), I remember thinking it was a bit slutty and unoriginal, far away from almost everything the Babes had released before. But it was catchy, and a clear display of the work completed with US producers during the previous months. Then Keisha was let go, and the campaign for About A Girl, the second single off the album was launched featuring Jade Ewen. And God that video was everything the Sugababes never were. It was vulgar, over-the-top in terms of almost everything and the song itself was pretty much the same thing as Get Sexy, only with "RedOne" added to the intro. Of course the album was delayed to allow Jade to record all of Keisha's vocals on the already existing tracks. Island Records were not going to let those (expensive) songs go to waste. And this, in my opinion, is the main problem with Sweet 7.
Whereas the band has always been known for making fantastic and edgy pop songs (Overload, Freak Like Me, Hole In The Head, Push The Button, About You Now, to name a few), which in a way defined this decade's pop sound, Sweet 7 sounds as if it had been made to erase all these achievements. Ok, most songs on the album are catchy and well produced (Thank You For The Heartbreak or Wait For You are clear standouts) but other than that, the tracks generally tend to rank to a Pussycat Dolls level. Which is good when you have When I Grow Up in mind (Wear My Kiss) and far worse when you think of Hush Hush Hush Hush. She's A Mess and Give It To Me Now, for example are so bad that even Girlicious probably turned them down. How the team behind the Sugababes let that pass is beyond my understanding. I wonder what the girls themselves (well, Heidi and Amelle) think about these songs, especially when they listen to their earlier work.
And then there are the ballads. Gosh, when you think their back catalogue contains Stronger, Caught In A Moment or Too Lost In You, you can only feel bad for Sugas 4.0. Crash And Burn, the likely-to-be next single (clever move!), is just standard Atomic Kitten in some aspects, and mediocre Sugababes during the chorus. The other ones, apart from Sweet & Amazing, which is neither sweet nor amazing but a little better though, are lost causes. I'm probably the only one who genuinely enjoyed their generally slammed previous record Catfights And Spotlights, but at least it had great mid-tempo tracks and ballads to offer. The reason they've been chucked at the end of the record like that is probably because the label is hoping people will stop playing it right in the middle of She's A Mess (which is very likely to happen) and therefore miss the slow numbers. Let's hope they do.
It's too bad the band didn't put Girls Aloud's hiatus and other girlbands failures (The Saturdays, Girls Can't Catch, Dolly Rockers) to good use. They had at least a six-month clear window to reclaim their crown, and instead of that, they let go their last remaining founding member and released an overall poor album. Well done.
The only way the band can survive this era is if they close it fast, and then record an amazing single. Other than that it's likely that the Sugababes won't last long. Or at least they'll live far away from their past glory.
En tant que fan de pop et amateur de girlbands, je pense ne pas être le seul à me sentir mal par rapport aux Sugababes. Ce n'est pas tant qu'elles -ou du moins leurs chansons- aient perdu de leur attrait, mais en vérité soutenir un groupe qui n'est plus ce qu'il était me dérange. Et là je ne parle pas du dernier changement en date dans la composition du groupe, lorsqu'en septembre dernier, Keisha Buchanan, le dernier membre fondateur à faire encore en place, était remerciée et remplacée en quelques minutes par Jade Ewen, qui avait représenté le Royaume-Uni à l'Eurovision l'an dernier. C'est la vie, avec une bonne dose de cynisme quand même. Cependant, les configurations passées du groupe avait toutes bien survécu au départ d'un membre, et comme j'ai tendance à le penser, seule la musique compte.
En fait, ce qui me dérange dans cette affaire, alors que commence une nouvelle ère pour la marque, pardon le groupe Sugababes avec la sortie de
Sweet 7
, c'est qu'il touche le fond. Lorsque
Get Sexy
est sorti l'été dernier, alors que Keisha était toujours fidèle au poste, je me souviens avoir pensé que c'était un single dénué d'originalité et un peu trop chagasse sur les bords, bien loin de ce que les filles avaient sorti par le passé. Mais bon, il se laissait bien écouter et rendait correctement compte du travail effectué avec certains producteurs américains au cours des mois précédents. Après ça Keisha a été écartée et la campagne de l'album
Sweet
7 a
commencé avec la sortie d'
About A Girl
, premier single en présence de Jade.
La vidéo qui accompagne le single
est quant à elle tout ce que les Sugababes avaient réussi à ne pas être jusque là : vulgaire, too much sur tous les tableaux tout en sonnant comme
Get Sexy
, à un «
RedOne
» auto-satisfait près dans l'intro du titre. Evidemment la sortie de l'album a rapidement été déprogrammée pour laisser le temps à Jade de réenregistrer les parties vocales de Keisha, Island Records ne voulant mette à la poubelle des chansons sans doute payées très chères. C'est bien là tout le problème.
Alors que le groupe a toujours été connu pour ses singles quasi-parfaits et toujours à la pointe (Overload, Freak Like Me, Hole In The Head, Push The Button, About You Now en sont quelques exemples), qui d'une certaine manière ont défini la pop des années 2000, Sweet 7 semble avoir pour but d'effacer ces indéniables réussites. Certes, la plupart des chansons de cet album sont efficaces et plutôt bien produites (Wait For You et Thank You For The Heartbreak sortent clairement du lot), mais sinon, on atteint un niveau Pussycat Dolls-esque. Ce n'est pas si mal quand on a en tête le très bon When I Grow Up (pour Wear My Kiss), et bien plus problématique lorsqu'on se souvient de Hush Hush Hush Hush. She's A Mess et Give It To Me Now, par exemple, sont tellement médiocres que même les Girlicious les auraient refusées. J'ai du mal à comprendre comment l'équipe qui pilote les Sugababes a pu laisser passer ça, et je me demande ce que les filles (enfin Heidi et Amelle) pensent réellement de ces chansons, surtout par rapport à leurs enregistrements passés.
Et puis, il y a les ballades. Mon Dieu. Quand on pense que leur catalogue comprend Stronger, Caught In A Moment ou encore Too Lost In You, on ne peut que plaindre ces pauvres Sugas 4.0. Crash And Burn, qui sera a priori le prochain single (bonne idée…) ressemble au mieux à du Atomic Kitten bas de gamme, et à du mauvais Sugababes sur le refrain. Les autres ballades sont à jeter, Sweet And Amazing mise à part, même si celle-ci n'est ni vraiment sweet, ni franchement amazing mais un peu mieux quand même. Je suis sans doute l'un de seuls défenseurs de leur précédent album Catfights And Spolights qui a été beaucoup décrié, mais au moins il proposait des ballades décentes voire très bonnes. Celles de Sweet 7 ont sûrement été placées à la fin du disque dans l'espoir que l'auditeur ne les écouteraient pas, ayant arrêté la lecture au milieu de She's A Mess ; ce qui a toutes les chances d'arriver, soit dit en passant.
Les filles (et leur équipe) ont vraiment mal joué leur coup : avec la pause des Girls Aloud et les échecs relatifs des Saturdays, et moins relatifs de Girls Can't Catch et Dolly Rockers, elles avaient une fenêtre de tir vierge d'au moins six mois en termes de concurrence girlbandienne. Largement suffisant pour récupérer leur couronne. Au lieu de ça, le dernier pilier du groupe s'est fait la malle et elles ont sorti un album dans l'ensemble médiocre. Bien joué.
La seule manière pour le groupe de survivre à cette campagne qui s'annonce plutôt mauvaise (l'album risque de ne pas intégrer le top 10 britannique en première semaine) est de vite passer à autre chose en enregistrant un excellent single fidèle au son emblématique des Sugababes passées, présentes et futures. Dans le cas contraire, je ne donne pas cher de leur peau…