November 1st > All Saints Day > All Saints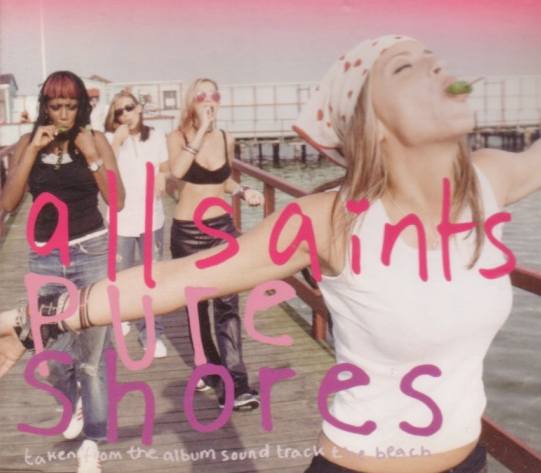 (Pour lire ce billet en français, cliquez sur "more more more" en bas de l'article).
That's LOGICAL
Is there a better way to celebrate the departed than to mention the fourth best UK girlband of all time ? Reminder :

1/

Spice Girls

,

2/

Girls Aloud

,

3/

Sugababes

(v. 1, v.2 & v.3),

4/

All Saints

,

5/ The Saturdays

, [...]

39/ Atomic Kitten

.
As they are unfortunately no longer with us (at least artistically speaking) despite trying a comeback in 2006 with the so-so Studio 1 (a total flop), they deserve our undivided attention during that grey bank holiday Monday.
I HAD to mention their fantastic single
Pure Shores
, taken from the band's second album but also from the soundtrack to Danny Boyle's
The Beach
featuring Leonardo Di Caprio. The song, produced by pop divinity William Orbit, the alchemist behind
Madonna
's
Ray Of Light
, still sounds as perfect and dreamy as it did ten years ago. One of the best tracks of the modern pop era (ie post-
Vogue
era).
Now relax, enjoy the day. Make yourself a mojito, turn up the heating a little and close your eyes : you're in Thailand and life is sweet. And there's no sand in you undies. Thank you, All Saints.
LOGIQUE.
Pour célébrer les morts, quoi de mieux que le quatrième meilleur girlband de tous les temps ? Pour rappel : 1/Spice Girls, 2/ Girls Aloud, 3/ Sugababes (v. 1, v.2 & v.3), 4/All Saints, 5/ The Saturdays, [...] 39/ Atomic Kitten.
Parce qu'elles aussi sont décédées (artistiquement du moins) malgré une tentative de comeback en 2007 avec le passable Studio 1 (qui s'est soldée par un échec cinglant), elles méritent toute notre attention en ce lundi férié et donc paresseux.
Il est donc tout à fait normal de revenir sur l'excellentissime Pure Shores, extrait du second album du groupe, mais surtout de la BO de The Beach de Danny Boyle featuring Leooooo (nardo di Caprio). Produit par le demi-dieu William Orbit, génial alchimiste de l'album Ray Of Light pour Madonna entre autres choses, le titre s'impose encore dix ans après sa sortie comme une des meilleurs pop songs de l'ère moderne (c'est à dire post-Vogue).
Profitez de la journée, faites vous un mojito, montez le chauffage et fermez les yeux : vous êtes en Thailande et la vie est belle. Et tout ça sans le sable qui colle aux parties. Merci les All Saints.