Cette semaine j'ai l'honneur et le plaisir de recevoir mon amie et ancienne partner in crime d'OWNImusic Lara (@larachacha). Elle vous fait découvrir un groupe que je ne vous aurais sans doute pas proposé ici, mais comme d'habitude avec elle, la qualité est au rendez-vous. Vous pouvez y aller les yeux fermés !
http://soundcloud.com/farewellpoetry
C'est une œuvre étrange. Entre nostalgie, interrogation et inquiétude, ce poème récité sur des consonances expérimentales s'adresse au tréfonds de notre conscience. Entre performance artistique et morceau de musique, notre cœur balance.
L'écoute qui demande du temps et de l'ouverture d'esprit permet à la musique de faire son effet: l'œuvre ne laisse pas indifférent et les réactions des uns et des autres sont violemment opposées.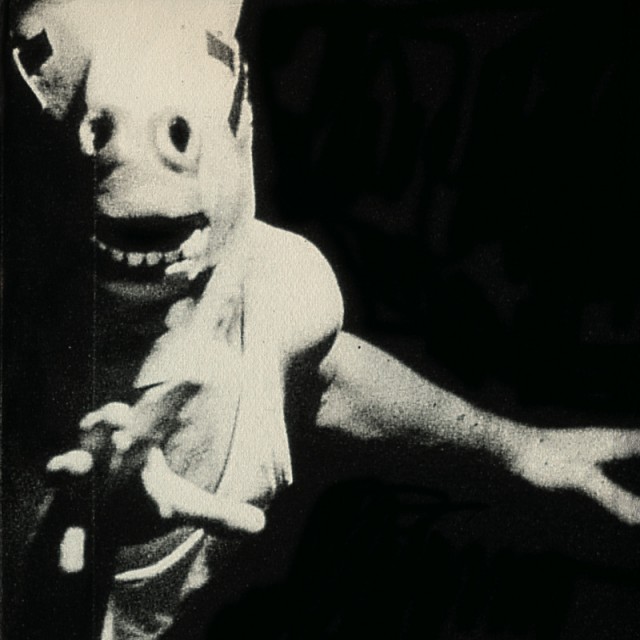 A propos de "As True As Troilus"
'As True As Troilus' a été enregistré et mixé entre Leeds et Paris. D'abord joué en studio dans des conditions proches du live, chaque instrument a été ensuite diffusé et ré-enregistré dans l'église Saint Margaret of Antioch de Leeds en utilisant le procédé du "mur du son" afin d'ajouter une réverbération et une acoustique naturelle aux pistes brutes.
'As True As Troilus' emprunte son titre et sa mythologie au récit de 'Troilus and Criseyde', un poème du 14ème siècle de l'écrivain anglais Geoffrey Chaucer, un faux mythe grec avec des origines médiévales, dans lequel le personnage principal Troilus tombe amoureux de la Troyienne Cressida qui finit par le quitter pour un soldat Grec appelé Diomède. Le narrateur de 'As True As Troilus' emploie ce mythe pour explorer sa propre mythologie romantique, se servant des personnages, de leurs corps et des situations pour exprimer sa propre détresse, illustrant les étapes de la destruction de son histoire avec des tableaux du conte Troyen. Le mythe comme outil de compréhension universel du personnel et du spécifique.
'As True As Troilus' est extrait de l'album 'Hoping for the Invisible to Ignite' (sortie officielle le 26 Septembre 2011).
FareWell Poetry - As True As Troilus - TRAILER
from
FareWell Poetry
on
Vimeo
.
Interview: "créer quelque chose d'un peu hors format"
Nous sommes un collectif regroupant des musiciens parisiens (Frédéric D. Oberland, Eat Gas, Colin Johnco, Stanislas Grimbert, Stéphane Pigneul) et une poète-cinéaste anglo-saxonne (Jayne Amara Ross). Nous invitons souvent d'autres musiciens à nous rejoindre sur scène ou en studio (tels que Gaspar Claus, Christelle Lassort, Uspudo, Bérangère Maximin, Dave Olliffe, David Moore, etc).
Comment le projet de FareWell Poetry a-t-il vu le jour ?
On a démarré FareWell Poetry il y a un peu plus de deux ans et demi. A notre premier concert nous étions trois sur scène. Puis comme on avait ce désir du "collectif", on a contacté d'autres amis musiciens dont on appréciait le talent et on s'est attelé à la tâche. On a beaucoup travaillé en studio, expérimenté, fait des concerts, crée de nouveaux films, tenté des choses, un peu comme dans un laboratoire, sans pression autre que d'essayer de se faire plaisir et d'aller aux bouts de nos idées. C'est très excitant pour nous d'avoir le sentiment de créer quelque chose d'un peu hors format, au-delà d'un concert traditionnel, où le rapport au public passe aussi à un moment au travers d'un film ou du spoken-word.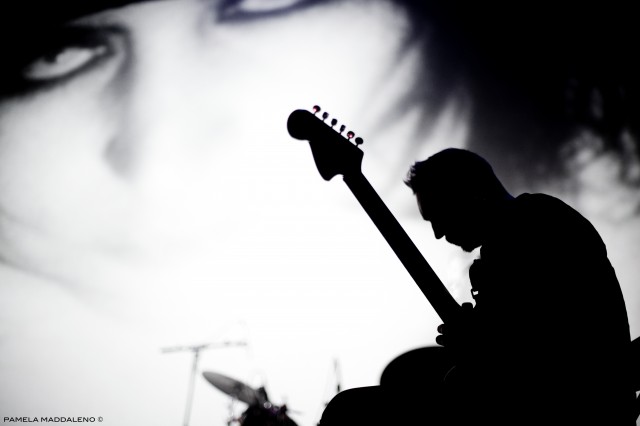 Quelles sont vos influences musicales ?
Dans le désordre : James Joyce, Maya Deren, Set Fire To Flames, Anne Sexton, Bela Tarr, "Coral Sea" de Patti Smith & Kevin Shields, les boîtes à musique, Dirty Three, Francisco Goya, Captain Beefheart, l'électricité et tout matériel analogique, Lord Buckley, Max Richter, la série SYR de Sonic Youth, Robert Wyatt, les films Tri-X super 8, les sous-vêtements Tie & Die, le D19 et autres révélateurs à haut contraste, Ovide, Philippe Grandrieux, William Shakespeare, Earth, Bitches Brew de Miles Davis, Sally Mann, Allen Ginsberg, les premiers Pink Floyd, "L'Art des Bruits" de Luigi Russolo, le field recording, ( ) de Sigur Ros, Melody Nelson de Serge Gainsbourg, Le Cantique des Cantiques, Einstürzende Neubauten, la psychogeographie, "Zidane" de Mogwai, "Dead Man" de Neil Young, la voix de Gille Deleuze, Carla Bley, Sun Ra, "Le Vent de la Nuit" de John Cale, The Ex & Tom Cora, "Misery is a Butterfly" de Blonde Redhead, Oren Ambarchi, Bing and Ruth, Arvo Pärt, le bon vin rouge et les drogues heureuses, nos amis, nos rêves, et parfois nos pires cauchemars.
Quel est votre objectif, professionnellement parlant ?
Nous n'avons absolument aucun "objectif professionnel". On essaie simplement de faire ce que l'on aime, et quasi exclusivement : jouer, tourner, s'amuser, expérimenter, se dépasser, etc. Nous travaillons dur, mais si nous souhaitions gagner beaucoup d'argent et se payer des survêtements Juicy Couture par exemple, nous aurions choisi autre chose. C'est une forme de sacerdoce artisanal bien plus qu'un métier et un train de vie confortable. De toute façon c'est la crise, autant essayer de vivre pleinement, non ?
A qui exactement vous adressez-vous avec ce projet ? Aux amateurs de musiques, de cinéma ou d'art en général ?
A tout le monde. Nous ne classifions rien. Les gens ne sont pas des cibles commerciales, nous ne vendons pas des yaourts ou des produits d'entretien. Ceux qui apprécient notre projet reviennent souvent nous voir en concert, nous envoie des mots gentils, nous encouragent, nous aident et nous offre un peu d'eux-mêmes. Et ça nous suffit amplement. Ceci étant dit, si un mécène souhaitait financer nos prochaines oeuvres sans contrepartie, par amour de l'art, nous sommes ouverts à lui offrir un peu de notre vin pour agrémenter son eau.
Quelle est votre stratégie pour attirer l'attention de ces publics très différents ?
Aucune.
FareWell Poetry - Persephone - TRAILER
from
FareWell Poetry
on
Vimeo
.
Votre projet étant intrinsèquement lié à l'image, comptez-vous utiliser/optimiser toutes les possibilités offertes par les nouvelles technologies afin de promouvoir votre projet ? Lesquelles ?
En réalité, nous sommes plutôt un collectif "vieille école". Les films sont en argentique, tournés artisanalement, développés à la main. Nous n'utilisons pas d'ordinateur sur scène -si ce n'est pour diffuser une copie numérique de nos films- toute la musique est jouée en direct, avec de vrais instruments. Les nouvelles technologies ont donc relativement peu de place dans la base de nos créations.
Toutefois, nous avons récemment collaboré avec le
Collectif MU
(l'équipe qui organise le très beau
festival Filmer La Musique
) sur une application iPhone autour de la face A 'As True As Troilus' de notre disque à venir. Nous avons découpé notre pièce sonore en cinq chapitres au sein desquels une secousse sèche du téléphone permet de lancer ou de stopper un instrument. Son orientation horizontale spatialise certaines pistes et son orientation verticale permet d'ouvrir le micro afin de moduler les sons ambiants et de les intégrer au mix général. On a pensé ça un peu comme de la psychogéographie sonore ; on déambule en agitant son téléphone, on choisit son territoire, son chapitre, on expérimente. On a pris beaucoup de plaisir à mettre cette aplication en place, bien que l'on regrette qu'elle soit limitée pour l'instant aux seuls possesseurs de iPhone, et qu'elle nécessite un casque. L'idéal serait de diffuser ça via des ghetto-blasters portables fournis gracieusement à tout-un-chacun. En attendant,
l'application
sera disponible gratuitement le 30 septembre prochain.
Quelle utilisation faites-vous des réseaux sociaux ?
Le web a bouleversé l'économie et la diffusion des œuvres artistiques. Internet est devenu un outil de diffusion quasi infini qui permet à beaucoup de choses d'exister en dehors des circuits traditionnels et de tenir informé les gens qui le souhaitent au quatre coins de la planète. De notre côté, nous utilisons volontiers en ce moment des outils comme
Soundcloud
,
Vimeo
,
Mixcloud
qui permettent de diffuser en streaming du contenu en haute qualité. Nous avons crée notre site internet nous-mêmes il y a quelques mois. Nous sommes aussi sur
facebook
, c'est plutôt pratique pour tenir au courant des concerts et de l'actualité à venir. Malgré cela, le contenu - dans notre cas la musique, la poésie, les films - nous importe bien plus que la manière dont il est diffusé virtuellement.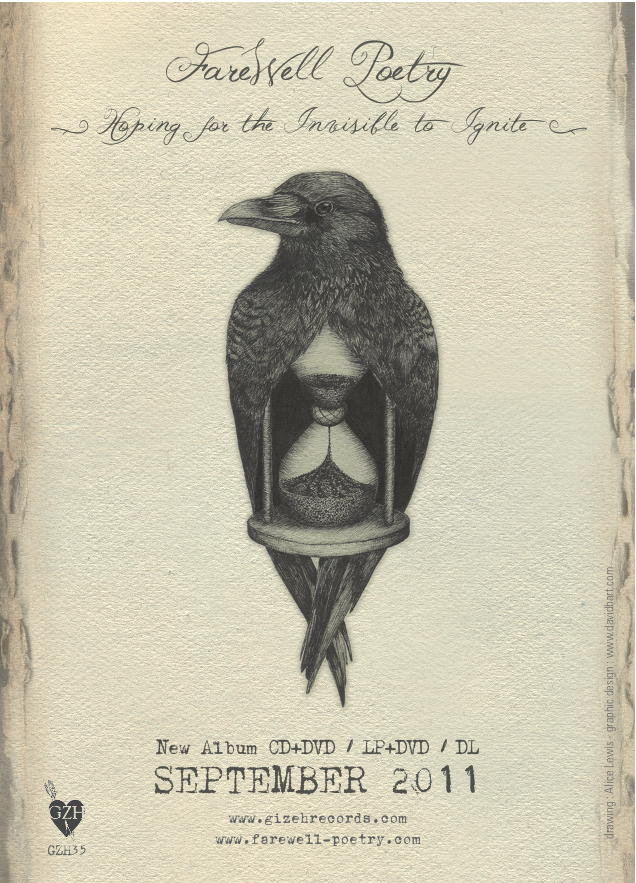 A l'occasion de la sortie de leur album "Hoping For The Invisible To Ignite", Farewell Poetry sera en concert le 30 Septembre à 20h30 dans l'église
St Merry
.
--
Crédit photos : tous droits réservés
Dessins originaux : Alice Lewis